How Can We Help Make Your Next Office Move a Success?
Let's get moving!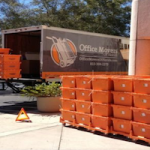 Office Movers of Florida is your complete source for office moves and relocation, internal office moves, office furniture installation and setup office expansions, long and short-term storage solutions, building cleanouts and more.
Free Estimates on All Projects
Managing an office move or relocation can be a big project. Our team can help you better understand what is involved in a move and can help you manage the process efficiently…and cost effectively.
We can provide Free Estimates over the telephone for smaller moves.
For larger, more complex moves, one of team leaders will come to your location. We can answer your questions and offer tips on how to make the move or furniture breakdown and assembly go smoothly.
Call Our Office at (813) 304-2273
From Tampa to Orlando and St. Pete/Clearwater to Sarasota – and even around the state of Florida – we provide office moving and commercial relocation services that are efficiently and professionally managed.
We'd like to help you with your next move. Please call us for a free quote.