---
Hey Tampa, Don't Settle For Boring Office Workstations
14

Jan 2016

It's true, when someone says "cubicle or office cube" it invokes thoughts of drab, boring, colorless workstations. The kind of office work environment that can be soul crushing.

But the reality is that today there are many options for office cube design and color styles — your Tampa office space does not have to be "boring office space."

Trends in modular furniture, workstations and cubicles and other furniture are aimed at giving today's working environments a more comfortable feel.

Business owners today know that in order to gain and keep employees, their office settings and environments need to be attractive, clean and inviting.

One of the results is an increase in the colors available for used office cubicles. Just take a look at what's happening with Herman Miller, Teknion and Hon for example.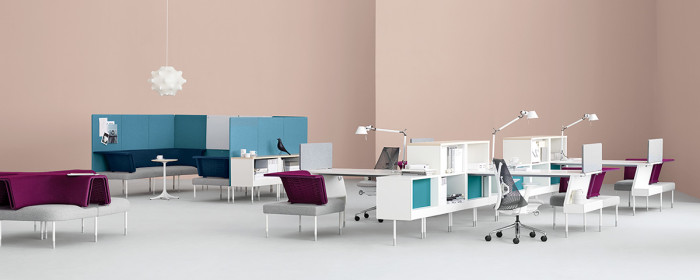 Tips for how to determine the right color choice for your office:
Don't go extreme
All red furniture in 1983 might have been the rage, but subdued colors — or mixing bold with constrained colors is best.
Accent wall?
Sure, especially when it corresponds to your company colors or balances the overall design of your other office furniture. A coat of paint can go a long way to livening up an office space.
Work with a designer
Most local Tampa area office furniture dealers have designers on staff who can help with your design, from color choices to fabrics to space planning. Additionally, many interior designers in Tampa also are licensed to work on commercial projects. Just don't settle on allowing the bosses wife to be the designer!
Try using accessories
You can choose accessories and lighting to inject color or styling. Mirrors. Plants. Rugs. Artwork.
There are many ways to add color and life to your office by choosing the right pieces for your business.
Learn more about how we can help you with your next office move or furniture installation
Please call our office at 813-304-2273.