---
New Resources Available for Sarasota and Manatee County Businesses
25

Sep 2017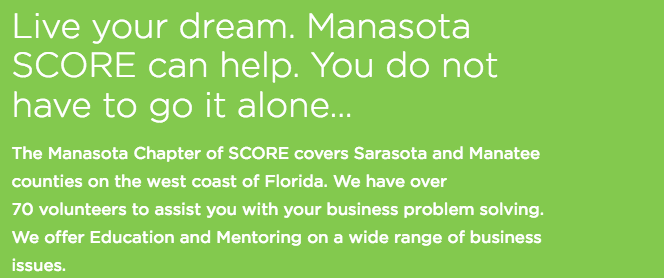 For business owners and managers in Sarasota and Manatee County, the local Manasota SCORE provides free, confidential business education and mentoring services for established businesses and startups.
It's a great way for small and medium sizes business owners to get one-on-one advice and consultation from volunteers with experience and skills in a broad range of business settings.
Could some Free Advice help your business?
According to the Tampa Bay Newswire in a recent PR Release, "Manasota SCORE is initiating a new series of workshops that will be held the first and second Tuesdays of the month.
Step-by-step information on doing business in Florida will be covered in the first Tuesday sessions, "Introduction to SCORE and Doing Business in Florida," on October 3, November 7 and December 5.
These workshops are offered at no cost and will include information on business planning, business structures, and profit and loss. They offer an opportunity to network with other entrepreneurs and SCORE volunteers as well as to sign up to receive free, confidential business mentoring services."
For more information, visit www.manasota.score.org.
Looking to grow your business?
For many business owners, managing work and home life will often leave little time for 'working on the business' instead of 'working for the business' — a key concept that allows for time to focus on planning and strategy.
This can trap decision makers in a spiral of just getting work done instead of mapping out directions for growing the business.
Even just attending workshops like the one with Manasota SCORE can help to revitalize and energize your efforts!
Moving Your Office Space?
Please call Office Movers of Florida at 813-304-2273 for more information.