Commercial Movers for Brandon, Valrico, Riverview and Lithia
We work…and live over here!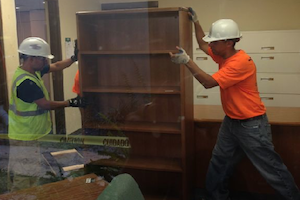 There is more business going on in this part of Hillsborough County than most people realize.
Mosaic's Florida headquarters are here. So is BlueGrace Logistics and Grow Financial and Brighthouse's big Tampa office.
Office Movers of Florida is your complete solution when it comes to managing office moves in the greater Brandon area, Valrico, Riverview and Lithia. We also work with clients in Apollo Beach or out in Fishhawk Ranch.
Whether you're moving one desk, the whole accounting department or the contents of an entire building, we can help.
No matter where you are in the suburbs around Tampa we can provide office moving services for your business.
We're efficient – and that benefits your bottom line
Coordinating an office move by yourself can be difficult. But don't worry. We've managed hundred of corporate moves and our efficient, streamlined process will help save you time and money.
Our team of office moving professionals are well-trained and highly experienced. We've installed furniture or moved offices for industrial and manufacturing companies, small businesses, large businesses and everything in between.
We provide full-service moving and installation for:
School systems
Hospitals and medical offices
State and local governments
Banks
Construction companies
Large and small businesses
Sports teams and programs

Churches
Non-profits
Trade shows
Conferences and conventions
Patio and outside furniture
Weight rooms
Libraries
Conference room tables

Lunch and break rooms
File rooms
Computer server equipment
Reception areas
Theater seating
Government offices
Military bases
Any jobs requiring clearance
Schedule your Brandon area move consultation today 813-304-2273. 
Moving on up!
Office Movers of Florida can manage all types of projects including:
Internal office moves
Office relocation
Receiving and new delivery
Short and long term storage

Inventory management
Downsizing and building cleanouts
Computer relocation services
Office moving and relocation services – we make it easy.
Other moving companies can move your stuff. At Office Movers of Florida, we're more than just movers – we're problem solvers.
Contact us today to talk about your next move.
Schedule your Brandon move consultation today 813-304-2273.