We are experienced office furniture installers
Office Movers of Florida is your complete resource for Receive, Deliver and Install services of Inscape Furniture in Tampa Bay
When you need a company to manage the assembly and setup of office furniture, Office Movers of Florida can help. Our teams of installers are focused on getting your project done efficiently, correctly and safely.
We're experienced with all of the Inscape lines of furniture — including workstations, cubicles, wall panels and screens, desk, chairs and accessories.
We're one of the largest installers of modular and systems furniture in Tampa. We are a full service installation company that manages both new furniture set-up, office reconfigurations and commercial relocations.
Our core services include:
Receiving – our experienced warehouse manager will receive your furniture within our facility which is located near I-4, I-75, I-275 and downtown Tampa. It's convenient to all locations across Tampa Bay as well as Orlando and Sarasota/Bradenton.
Delivery – we will deliver your furniture using our company vehicles or vehicles from our contracted leasing company.
Installation – our team of 19 experienced installers, installation support and movers make the process run smoothly.
Storage – with 16,000 sq. ft. of fully racked warehouse with 5 bays, we can store office furniture on a short or long-term basis.
Inventory control – we can manage off site storage of our client's furniture to be used for future reconfigurations, office renovations and commercial relocations.

We assemble and install workstations, cubicles, wall panels, desks and more
New furniture installation
Work station reconfiguration
Floor to ceiling installation
Deliveries
Dealer service work orders
Local pickup of product
Showroom installations
Furniture repair
Liquidation and clean out
Office relocation (local and internal)
Panel and fabric cleaning
Wingman services
Project management and customer service
Our install teams consist of:
5 Sr. leads
6 qualified installers
6 apprentice installers
2 Property service technicians
Staff of installation support/movers
2 Project managers/client services representative
Using our installation services helps minimize employee downtime and ensures that your employees can get back to work quickly. Outsourcing to professionals also ensures that your employees won't be injured moving or trying to put together heavy modular furniture.
Years of experience moving and installing Inscape office equipment
Office Movers of Florida is a privately and locally owned Tampa business. Owner Trent Portner is a former installer and still project manages many projects. He has over 18 years of experience. General Manager Windy Hall has 8 years experience with commercial furniture dealerships and 25+ years of small business ownership.
Our management teams knows the industry — and fully understands the needs of small, mid-size and larger businesses. Whether you need help installing furniture for one office or for 1,000, we can help.
We also move and install other national office furniture brands
Haworth
Teknion
Steelcase
Allsteel
Knoll
Inscape
Global
OFS Brands
HON
What separate us from other local installers?
We've know that our customers need an installation company they can rely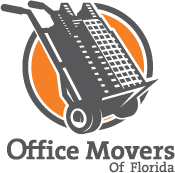 on. And whether the job is several months away or the next day, we have the resources to get the job done right.
Because we deal with busy companies who need to work 9-5, Monday through Friday, many projects need to take place after hours and on weekends. Our goal is to complete the install project or move with the least amount of disruption and downtime for your business.
Unlike residential moving companies or many commercial movers, we have the experience and training needed to move expensive furniture carefully, complicated workstations correctly and connected modular furniture without missing pieces or wobbly parts.
Let's get started on your next project.
Call for your free estimate, 813-304-2273