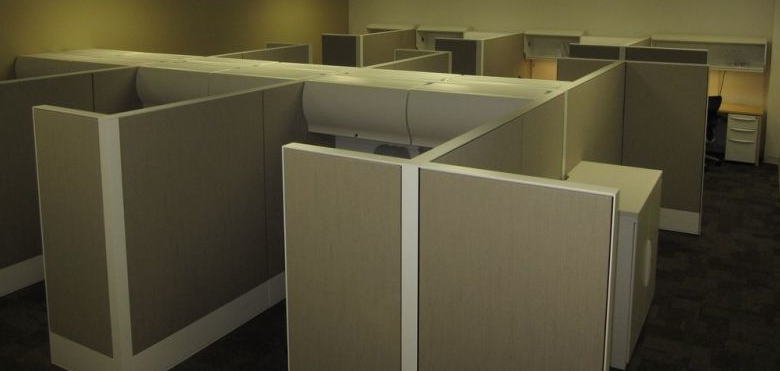 Tampa's Best Office Furniture Installation Company
Setup by trained, experienced, local installers
When it comes time to put together the wall components and dividers that separate your employees workstations, you need to call in the experts. Our teams are made up of highly trained office furniture installers – a service that most moving companies either don't provide – or don't do well.
We Assemble the Panels and Dividers of Workstations, Cubicles
At Office Movers of Florida, our staff will disassemble, relocate, reassemble and install all furniture equipment correctly…and safely.
We provide furniture installation services within all office space setting, for companies large and small, regardless of whether it's provided as part of an office move – or whether it's an install project only.
Office Chairs
Office Tables
Computer Armoires
Bookcases
Filing Cabinets & Filing Systems
Storage Cabinets & Shelving
Office Desks
Carts, Stands & Podiums
Office Accessories
Art, Furnishings & Office Decor
Outdoor Office Furniture
Lighting & Audio/Visual
TV Stands and Media Furniture
We Disassemble, Relocate, Reassemble and Install the Following Brands:
Leave the Heavy Lifting to Us!
Many companies need furniture and equipment installers when re-configuring their office space. We can assemble and install furniture faster and more efficiently than if your employees were having to do the installation themselves.
That saves you time, money and the headache of watching your employees struggle with cubicle assembly. Plus, their time is better spent doing actual work…while leaving the heavy lifting to us.
Our teams have the correct tools and right experience to install desks, cubicles, workstations, wall panels, filing systems, shelving and much more.
Intermarket Services Trust Us Too!
We also offer the following receiving and installation services for office furniture dealers within Florida or outside the state of Florida. In fact, many out of state dealers contact or Tampa office to help them manage projects throughout Florida. Read more about our Intermarket Services here.
Receive, deliver and install of office furniture
Furniture reconfiguration services
Long and short term storage in our 16,000 square foot warehouse
We Provide Other Office Furniture Services, Including
Office Moves and Relocations: Tampa Bay, Sarasota and Orlando markets
Office Furniture Repair and Maintenance
Cleaning and Reconditioning of Cubicle Partitions and Wall Panels
Office Furniture and File Storage
Liquidation and Disposal of Old, Broken Furniture
Contact us for a Free Office Furniture Installation Quote, 813-304-2273
We provide installation services throughout greater Tampa Bay including St. Petersburg, Clearwater, New Port Richey, Westshore, Oldsmar, Brandon, Plant City, Bradenton, Sarasota, Dunedin, Apollo Beach, Pinellas Park, Largo, Palm Harbor, Safety Harbor, Lutz, Wesley Chapel, Zephyrhills, Temple Terrace, Lakeland and Orlando.